Suppliers
The Artisan serves homemade dishes made from local ingredients, all sourced from within 200 km of Prague, guaranteeing a unique variety and freshness of taste. Chef David Rejhon took inspiration from classic Czech cuisine when creating a menu designed to be modern and accessible, all underlined by the taste of selected regional wines from family wineries.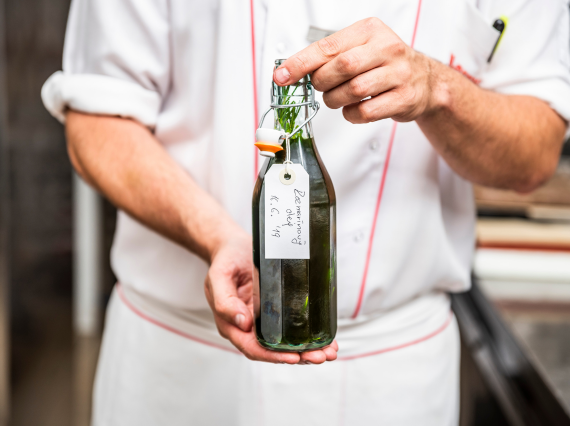 Zero-waste & Fermentation
Fermentation is experiencing a boom, and not only because of its beneficial effects on our health.

This traditional preservation technique was already known to our grandmothers, which is why we also took the path of fermentation, and it has an irreplaceable place in our kitchen. In addition to the mentioned health and taste benefits, there is one more important property of fermentation - it makes it possible to use raw materials to the maximum, reduces waste and thus contributes to greater sustainability in the kitchen. At Artisan, you have the opportunity to taste original dishes that you cannot find elsewhere. These include, for example, homemade vinegar from pepper pulp, oils from herb stems, emulsion from pumpkin seeds or homemade lemonades from plum or cherry pits.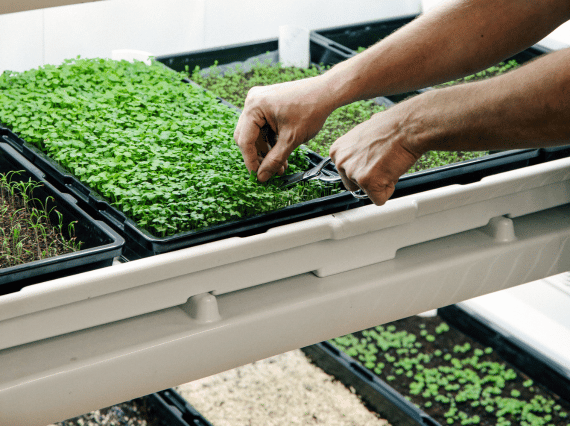 Urban cultivator
We were the first in the Czech Republic to purchase a professional cultivator. With the help of our cultivator, we grow home herbs, which you can cut yourself and flavor the dish according to your preference, as well as sprouts or sprouts, for example those from mustard, buckwheat, lentils or sorrel.

It is also worth mentioning the fact that the cultivator itself is also nature-saving - it only needs a few liters of water per month, and yet it can produce a sufficient amount of high-quality and healthy food.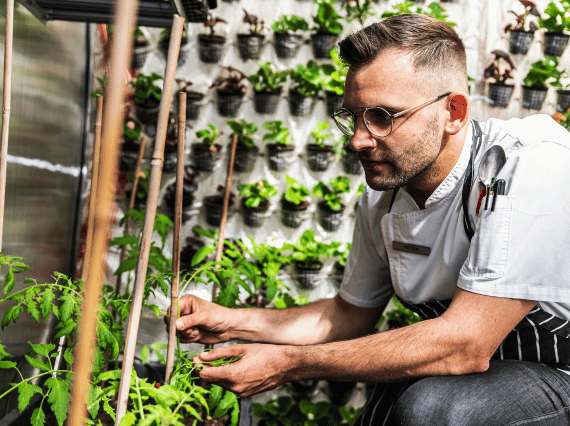 Composter & Greenhouse
We produce approximately 150-200 kg of compostable waste per day. However, we are happy that thanks to our composter we have the ability to process up to 150 kg of this waste per day. About 15 kg of compost is produced from this 150 kg of waste.

The result is nutritious soil that we then use to grow fresh herbs and vegetables in our own greenhouse.

The greenhouse allows us to always have fresh and high-quality ingredients at hand. Thanks to controlled climate conditions and protection from adverse weather, we are able to grow seasonal herbs, vegetables and other plants all year round.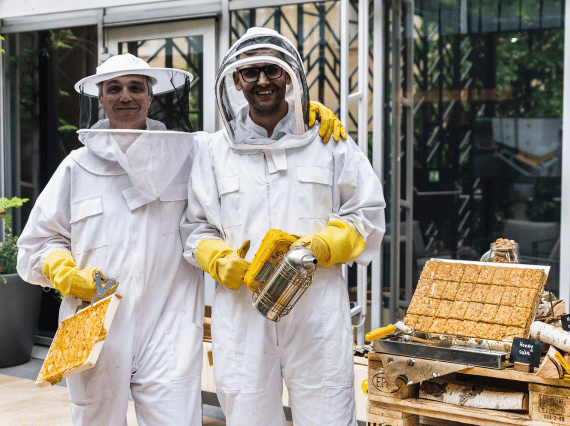 Beekeeping & honey production
In our restaurant, we have come closer to our vision of fully sustainable cuisine thanks to 90,000 of our own "artisan" bees that have found their home on our roof.

We use honey in unique dishes, but also in the production of homemade mead and even in the creation of our own propolis tinctures and other homemade products. This brings our restaurant significantly closer to our goal of achieving a fully sustainable kitchen that emphasizes our own production and quality local ingredients.

Producing your own honey has a significant impact on operations and cost savings.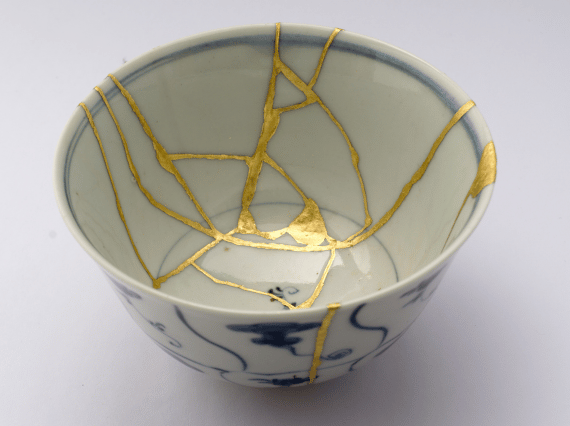 Kintsugi technique
We are passionate about the art technique called kintsugi. This Japanese method of porcelain renovation, which emphasizes the beauty of the repair, has become an integral part of our concept.

For us, Kintsugi is a way to express a deep respect for nature and a sustainable lifestyle. Instead of hiding cracks or damage, we choose to emphasize and appreciate the uniqueness of each piece of ceramic. Using a gold or silver powder mixture, we repair damaged parts and create new, fascinating patterns.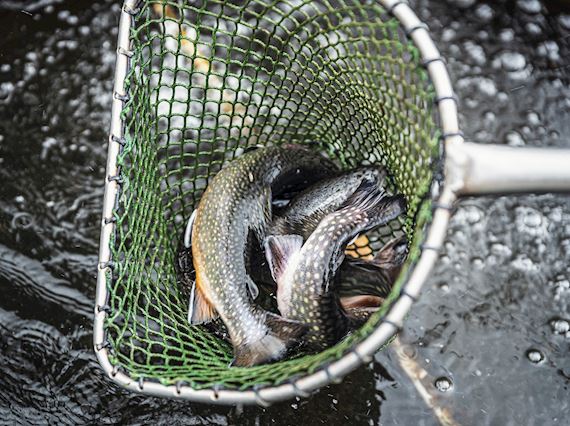 Local suppliers
We emphasize artisan production and carefully select farmers and suppliers no more than 200 km from Prague. With the same consistency, we also take care to observe the seasonality of raw materials.
Our main suppliers include:
A-Maso
Kalend's Chabrybarn
Krasolesí Farm
Vykáň solar farm
Family farm of Martin Minarčík
Winery Salabka